Level Up Automation Brings Smart Home Experiences to Boston Suburbs with New Control4-Certified Showroom
Level Up Automation owner Jen Mallett doesn't mince words about her ambitions to make smart home technologies more popular throughout the Boston area.
"Smart home technologies have rapidly become more capable and more reliable while decreasing in cost," Mallett explained. "However, most homeowners are still unaware of what's available and how these easy-to-use tools can impact the comfort, convenience and livability of their homes."
Fewer still, Mallett says, have had the chance to personally experience the latest technologies. That's why Level Up Automation built a Control4 Certified Showroom in Northborough, MA, to show local residents the full scope of possibilities from smart lighting and distributed audio/video to surveillance systems and motorized door locks.
Level Up Automation Partners with Control4
Centered around the Control4 smart home system from Snap One, the Level Up Automation showroom presents a vision of the home where owners can control virtually anything, from anywhere, at the touch of a button.
"If someone wants a lighting keypad in their living room with a dedicated button that instantly displays security camera feeds on the room's TV, we can do that," Mallett explained. "If they want window shades that open when the sun rises, or voice-controlled music and TV in every room, or customized scenes that alter lighting, climate, security and AV with a single button, we can do that."
When a homeowner visits the Level Up Automation showroom, they are treated to a veritable playland of advanced systems and devices that can all be tied together and controlled through touch screen wall panels, remote controls and mobile device apps.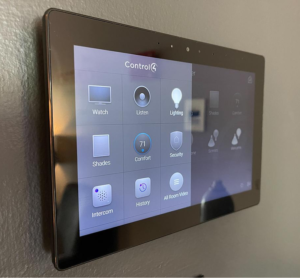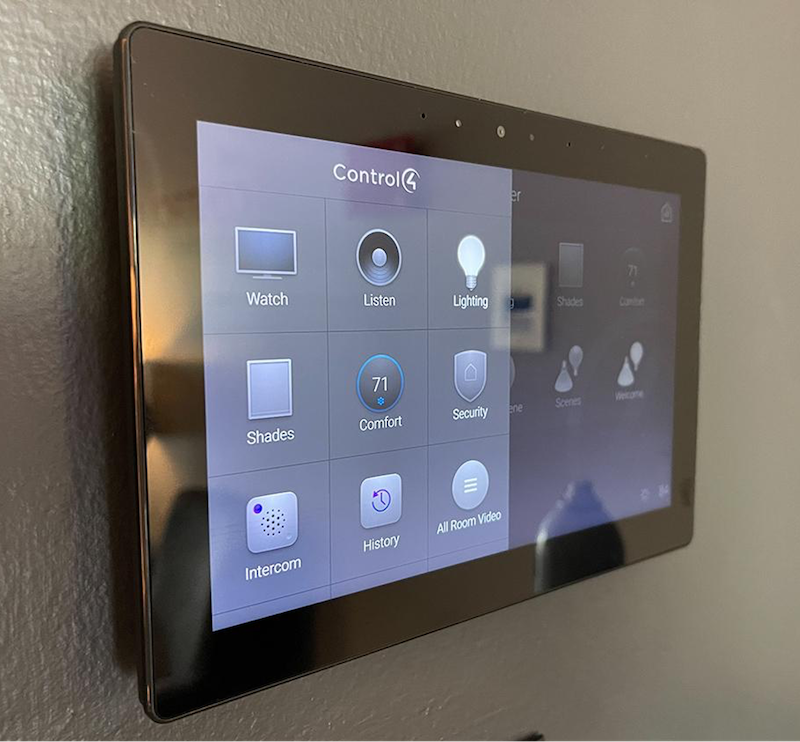 Mixing Education and Advice
The full Level Up Automation experience mixes expert education and advice with hands-on product testing to provide homeowners with a real sense of how it feels to control a home using the latest technologies. The showroom includes a Control4 smart home operating system, automated lighting with custom-engraved keypads, a ClareOne security system with Luma surveillance cameras, TVs on motorized mounts, an outdoor entertainment room with a rock speakers and a Sunbrite TV, a full 7.1 surround-sound home theater with Episode Signature Series speakers and subwoofers, electronic door locks, a smart energy management system, smart thermostats and HVAC control, and enterprise-grade Wi-Fi from Access Networks for whole house connectivity.
Level Up Automation even went a step further than most showrooms by adding an electric vehicle charger and a luxury-level smart toilet to present ultimate comfort and support for future technologies.
Impress Everyone Who Walks Through the Doors
"The showroom experience is designed to impress everyone who walks through our doors, and that's exactly what it does," Mallett said. "Until prospective clients see how a single button on a lighting keypad can unlock the patio door, turn on the gas fire pit, change the lighting to orange and start playing a specific music source, it can be difficult to comprehend how much the technology is capable of. For us, part of that magic is having a family of products that integrate seamlessly and enable reliably simple control from any device, from anywhere on Earth. We've chosen to focus on Snap One and Control4 products to deliver the most value coupled with the best performance and capabilities."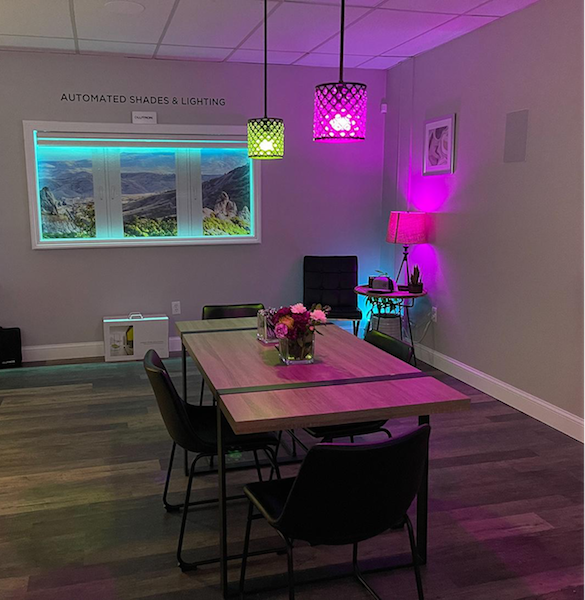 Mallett also recognizes the positive business outcomes made possible by partnering with Snap One, which provides one-stop product procurement and greatly reduces the need to rely on a spider web of suppliers. This even extends to Level Up Automation's long-term maintenance and service, with options including WattBox and OvrC-based system management that enable remote troubleshooting, device diagnostics and resets for common issues.
"From ordering to installation, Snap One helps us ensure a smooth process for our business and our customers," she said. "We advertise home control as a simple, powerful way to enhance home living, and the reliability and support inherent in being a Snap One partner helps us deliver on that promise for every project."
Massachusetts and northeastern homeowners and businesses interested in learning more can visit www.levelupyourhome.com to schedule a showroom visit and speak with a representative to learn more.
---