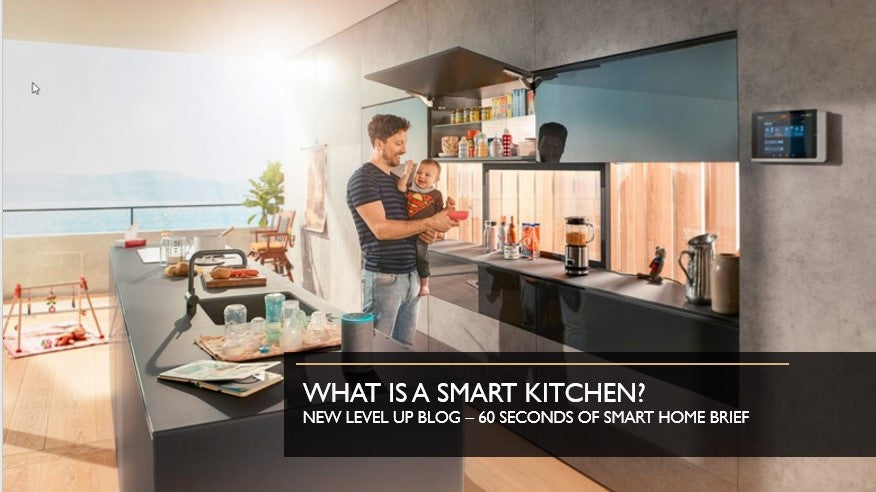 What is a smart kitchen? Great question.
What does a Smart or Internet connected kitchen do? In short, it leverages technology to maximize the enjoyment of one of the most gathered rooms in any home. The kitchen is the center of your home. It is no wonder that most leading brands in this space have made a huge push in the last few years to incorporate internet based technologies to help improve the performance and amenities of their products for homeowners.
Examples of what exists in a Smart Kitchen:
Smart faucets

Smart appliances

Smart lighting

Automated shades

Connected sound and media content

Custom designed experience controls
The difference between a smart kitchen and a regular kitchen is in the coordination of various major home systems with minimal effort - lighting, shades, sounds, temperature and tools (like appliances).

A smart kitchen has Experiences designed and "at the ready" at all times.  Let's review a few of the more popular experiences we design for our clients in the new and improved modern kitchen:

At the press of a button, voice command or automated on a set schedule:

1. Welcome to Dinner 
Cooking
Your experience initiates with your favorite playlist to cook to. Bright cooler (but not too cool) task lighting in the right spots optimize your ability to chop and sauté away. Shades close to provide privacy as the sunsets so your neighbors can can no longer count your wine glass intake. Your faucets are hands free, touchless and pour at just the right volume based on your verbal command or hand gestures. So pour your glass of wine and enjoy making dinner, your internet kitchen has you covered and set the stage for relaxation.

Gathering to eat
A second phase experience to Dinner is automated to lower the brightness level of your lights, tune the lighting to a warm, relaxed temperature to help everyone settle into mealtime. We like 2250 kelvin temperature as a automated setting as it provides a warm ambiance mimicking what you see at great restaurants that have a romantic setting.  In our home we like a nice relaxing jazz or a dinner Spotify playlist if we are entertaining that can be enjoyed but also easy to have conversation along with. Shades stay closed to ensure your dinner remains private for those at the table.

One important key tp point out - there is no fiddling with your smart phone in a well designed modern day, internet connected kitchen. We spend enough time with our heads buried into devices all day - we do not need more technology, we need technology to work for us.  Cooking and meals are meant to be a time to disconnect from technology.  Your experiences are pre-programmed into buttons, voice controlled scenes, or happen automatically based on designedf schedules - the end result of these technology benefits are effortless and maximizes your enjoyment of the kitchen as a key living space in your home.

2. Good morning - it's breakfast time!
Shades automatically rise inviting you to brew that first cup of Joe. It may brew automatically at the time you have it scheduled. If needed based on the time of year and day - your lights provide task lighting to help those fried, scrambled or poached eggs come out just right.
The sound supporting your breakfast plays news from your favorite media outlets or a great "Good Morning" playlist from iTunes, Pandora, Spotify or any other one of your favorite sources.  We like Acoustic Sunrise (easy, breezy acoustic covers) on the weekends and news on the weekdays to get started for the day with weather, traffic reports and the latest headlines in our favorite subjects (tech here!).
3. Parenting Convenience
For this wrap up example we will speak a bit to people in a stage of parenting (like I am - 9 and 13 year olds).  Let's say you head out for a hike with your kids. Your son mentions he wasn't sure if he closed the refrigerator all the way when he got his water bottle, a quick look at your app lets you quiet his (and your) fears and confirms it is in fact, closed. Later on the kids note that they've worked up quite the appetite and they would love some of those chicken tenders they had last week. You tell them its a deal along with a side of broccoli.  Preheat your oven from your phone so when when you get home, you pop them in and voila your mom or dad cooking time has been cut by 15 minutes from box to plate.

Nowadays with busy working parents, 15 minutes a few times a week is precious.
These are a few examples of the way internet connected or "smart" kitchens help you disconnect from interfacing with technology and maximize the enjoyment of your time in what is sure to be your new favorite gathering room in your home if it isn't already.
At Level Up, we are wrapping up the remodel of a 1927 built New England home with a 1945 era kitchen/dining room space - we have converted it into a modern day internet connected space - where technology and design work together in the background to provide a beautiful space to gather, entertain, cook or eat.  We are looking forward to revealing it in February 2020.  Stay tuned and reach out if you need help designing technology experiences into your modern day kitchen.
If this has you thinking you want to learn more and you are interested in what will be happening with smart kitchens 10 years from now, the next phase will be smart cabinets - helping you know when food will expire to eliminate food waste, what to shop for along with a number of other convenience benefits.  Check out this short video from Blum, a company who is at the forefront of this thinking 
 All my best,
Jen
CEO, Level Up Automation & Level Up Your Home
---