Press Release - Level Up Your Home to present key insights for the smart home industry at Parks Associates' CONNECTIONS™ Summit at CES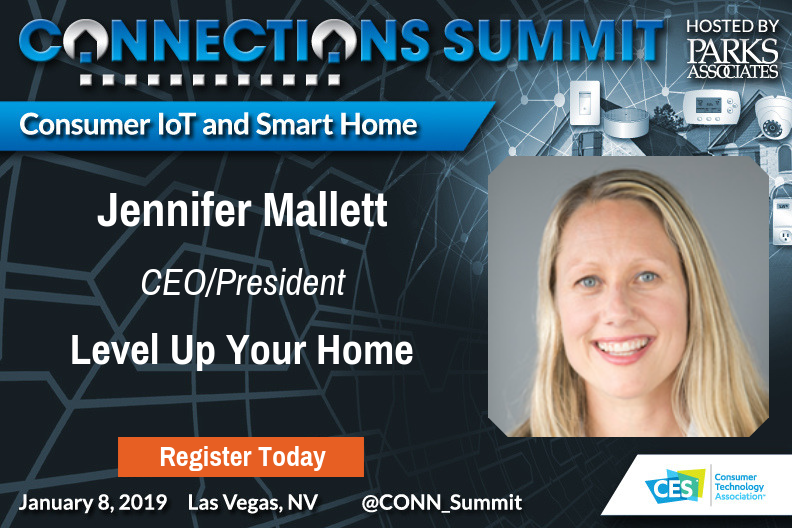 For Immediate Release
Julia Homier
Parks Associates
972.996.0214
Julia.homier@parksassociates.com
Level Up Your Home to present key insights for the  smart home industry at Parks Associates' CONNECTIONS™ Summit at CES
Marlborough, MA, 12/31/2018 — Level Up Your Home announced today that Jennifer Mallett, CEO & President, Level Up Your Home will speak at the 13th annual CONNECTIONS™ Summit, hosted by Parks Associates at CES 2019 on January 8 in Las Vegas. Jen Mallett will participate in the session In Home Tech Support: Creating Consumer Confidence on Tuesday, January 8th at 12:15pm].
This session, moderated by Patrice Samuels, Senior Analyst, Parks Associates, examines how brands are leveraging proactive support to interactions to engage their customers, drive higher ROI and build consumer confidence in the safety, security and reliability of their IoT experiences. 
More than 50% of consumers who set up smart home devices themselves report setup problems. "Connected products are innovating our lives; service experiences need to be designed to meet that innovation in order to drive anticipated adoption and a more effortless ownership experience" said Jennifer Mallett, CEO & President of Level Up Your Home, a national smart home service company.
The 13th annual CONNECTIONS Summit hosts more than 300 industry smart home, healthcare, connected entertainment and the Internet of Things (IoT) leaders, with sessions that analyze smart home and IoT trends and examine the implications for connected consumers and opportunities for companies to build new revenues and launch innovative business models.
"In today's connected household, support services must expand to offer comprehensive protection for the whole home network, with knowledge of all connected devices, their capabilities, and how they interact with each other," said Patrice Samuels, Senior Analyst, Parks Associates. "This service creates multiple support challenges, so cost control is another obstacle. AI and other adaptive tech innovations can help companies develop a service that is cost-effective yet still deliver positive user experiences."
Information about CONNECTIONS™ Summit is available at connectionssummit.com. Press passes for the event are available http://www.parksassociates.com/events/connections-summit/media. Follow the conference on Twitter at @CONN_Summit & #CONNSummit19
About Level Up Your Home
Level Up Your Home is positioned as the leading national provider of Smart Home services in the United States. Comprised of over 100 highly skilled custom integrators, the company is focused on making the ownership experience effortless.  The company operates in 22 US major markets and provides clients services that range from Smart Home Consultations through whole home automation installation and long term ownership support.
About CONNECTIONS™ Summit at CES
CONNECTIONS™ Summit at CES is an annual research and industry event hosted by international research firm Parks Associates at CES in Las Vegas.
The 2019 CONNECTIONS™ Summit features panels examining successful consumer-focused strategies in designing and deploying IoT, smart home, and connected CE and health solutions. Leading analysts from host Parks Associates present consumer research and moderate expert discussions on crossover opportunities among these ecosystems, with insights on emerging trends, including AI, voice controls, and growing privacy concerns. CONNECTIONS™ Summit at CES is THE place to be to learn about the smart home, get the latest consumer research, and network with strategic decision makers in this growing market.
The 2019 CONNECTIONS™ Summit will take place January 8 during CES, which runs January 8-11 in Las Vegas. Follow the event on Twitter at @CONN_Summit.
For information about CONNECTIONS™ Summit, contact sales@parksassociates.com or call 972-490-1113 or visit www.connectionssummit.com.
---